REDEFINING NUT BUTTER SMALL BATCH, BIG PICTURE
STONEGROUND CREATIONS
Philosopher Foods nourishes people and planet with our craft nut butters! Our stone-ground coconut butter, sprouted almond butter, and chocolate versions of both are made in small batches in Santa Cruz, California.Using stone grinding, a food preparation technique older than civilization, we are re-defining nut butter with our unique flavors and textures.
ALCHEMICAL ENTERPRISE
Our mission is to create delicious, nutritious, ethical, and ecological food that nourishes all Life through its cultivation, manufacturing, distribution, and consumption. Our vision is to use business to promote the flourishing of all organisms and ecosystems!
SPROUTED | DEHYDRATED | STONE-GROUND
Our signature triple value-added process creates unprecedented flavors and nutrition profiles.
1
Sprouting makes the almonds sweeter, more digestible, and nutritious. Research shows that sprouting increases the polyphenol content of the almonds, boosting antioxidant activity.
2
Dehydrating preserves the enzymes, flavor, and nutrition of sprouted almonds, without generating the carcinogenic acrylamide that results from roasting, as most nut butters are and contain.
3
Stone-grinding is a low temperature, slow speed, ancient technology for food processing that avoids the oxidation and heavy metal contamination of modern high-speed metal food processors that make most commercially available nut butters.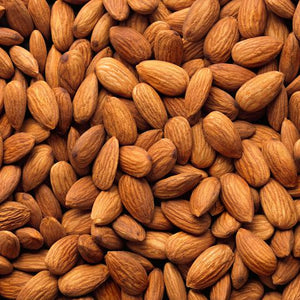 ALL OF OUR INGREDIENTS ARE CERTIFIED ORGANIC, FAIR TRADE WHERE CERTIFICATION IS POSSIBLE, AND METICULOUSLY SOURCED.
ORGANIC & FAIR TRADE INGREDIENTS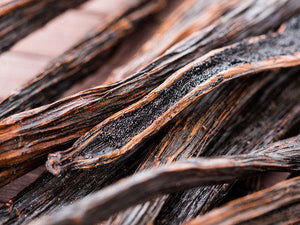 WHY DO WE CHOOSE ORGANIC?
See below. Which almond orchard do you think is healthier for us and the planet?
STONEGROUND CREATIONS
I started this company in 2013 in part to transform the chemical-laden conventional almond industry, pictured on the left. I saw how detrimental it was to the human, bee, plant, soil, water, air, and ecosystem health around me.
Did you know that almonds in California are doused with over 39 million pounds of pesticides, herbicides, fungicides, and fumigants every year, more than any other crop in our state? According to the Guardian, "One of the most widely applied pesticides is the herbicide glyphosate (AKA Roundup), which has been shown to be lethal to bees as well as cause cancer in humans."
Glyphosate is the most widely used carcinogenic herbicide on almond orchards. We tested several non-organic almond butters and found glyphosate levels over the 10 ppb "safe threshold" in every single of one them.
That's why we decided to become the first and only nut butter company to be Glyphosate Residue Free certified.

FROM PHILOSOPHY DEGREE TO FOOD BUSINESS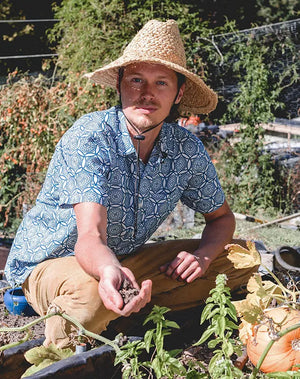 Tim Richards | Founder, Chief Philosopher
I created this company to tie together three of the main threads of my life: being a thinker, activist, and foodie.
As a philosophy major at Haverford, I thought about how to solve the massive problems facing our planet and wrote my thesis on environmental ethics. As an activist, I engaged these problems through environmental non-profits. As a foodie, I experimented with sprouting to make food more delicious, nutritious, and digestible.
In 2012, I made my first batch of sprouted almond butter. It was by far the most delicious almond butter I'd ever tasted! I shared some with my housemates, who told me: "dude, this is the best almond butter ever! You need to make this a business."
I founded Philosopher Foods on Earth Day 2013 for two main reasons:
To teach people about the delicious importance of sprouted food, and
To create an economic engine for regenerative organic farming, which promotes the health of all Life, not just the pursuit of financial profit.
What started as the first Certified Cottage Food operation in our home kitchen in Davis, California, organically grew first to the back of a local restaurant, then to a commercial kitchen in Berkeley, and finally into our own production facility in Santa Cruz since 2015!
The orchard above is one of the most regenerative almonds orchards in California, according to independent scientific research as yet unpublished by the Ecdysis Foundation. This orchard is practicing nine regenerative almond cultural practices, including year-round presence of and forage for bees, grazing animals, growing cover crops, planting hedgerows around the perimeter of the orchard, etc.
We're planning to launch a new product line featuring almonds from this orchard this fall! Through our partnership with this orchard, we plan to become Regenerative Organic Certified by 2023. We'll be the first in the almond butter world to receive this certification!
The silvopasture, managed grazing, perennial staple crops, and tree intercropping exemplified in this orchard are all in the top 25 solutions to climate change, scientifically verified by Project Drawdown to pull CO2 out of the atmosphere and store it in the soil!
We're donating to the Ecdysis Foundation to help understand the benefits of regenerative almond agriculture. So far, their research has revealed at least five key benefits:⁠
1) Soil organic matter, total soil carbon, total soil nitrogen, and phosphorous all increased 🍂 🍁⁠
2) Water infiltration rates were significantly faster 💦⁠
3) Plant species diversity and biomass increased significantly 🌳 🌱⁠
4) Invertebrate species diversity and richness increased, and earthworm abundance and biomass were significantly greater in regenerative orchards. 🐝 🐌⁠
5) Profit was 2x higher than in conventional orchards 💰 ⁠💵
Read their pioneering research on regenerative almonds here or watch here.
We're the first and only nut butter company to use a Regenerative Organic Certified ingredient - the coconut oil in our Alchemy blends.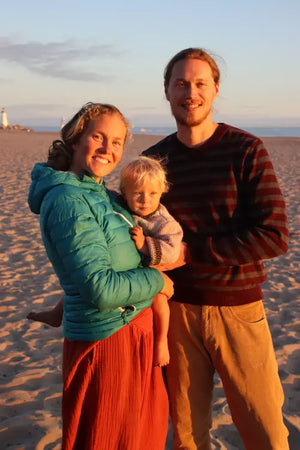 THANK YOU FOR TRUSTING OUR FAMILY TO OPTIMALLY NOURISH YOU AND YOURS!
Tim, Chelsea, and baby Runa